History Center and Archives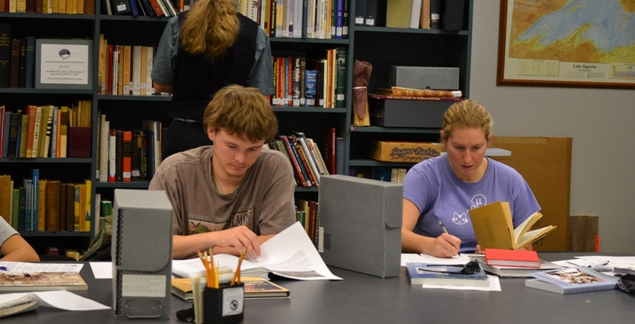 Supporting Historical Research
Our History Center and Archives is #14 in the statewide network of Area Research Centers (ARCs) operated by the Wisconsin Historical Society (WHS). The WHS and the University of Wisconsin (UW) System cooperate in a network of ARCs located at the Northern Great Lakes Visitor Center and at UW campus libraries throughout the state.
Learn more about the Area Research Center Network on the Wisconsin Historical Society Web Site.
Serving Eight Wisconsin Counties
​Working cooperatively, the ARC network's partners identify, collect, organize, and preserve records documenting Wisconsin's heritage. Our Northwoods ARC is the repository for 8 northern Wisconsin counties serving the people of Wisconsin with access to public records and private manuscript collections for Ashland, Bayfield, Forest, Iron, Oneida, Price, Sawyer, and Vilas counties.

Visit the Northwoods ARC
Located on the second floor of the Northern Great Lakes Visitor Center, you may contact the History Center and Archives by Phone: 715-685-2647; or use the contact form at right.  Hours are: 1:00 p.m. to 4:30 p.m.; Tuesday through Friday, and by appointment.

Genealogical Research
Items of most use and interest for genealogical researchers include naturalization records; pre-1907 registrations of births, deaths, and marriages; census records for each of the eight counties as well as Native American census rolls for Northern Wisconsin tribes; area newspapers on microfilm; court and tax records; and Ashland city directories.

Accessing Records
In addition to the collections housed at the Northwoods History Center and Archives, researchers can access collections from the other ARCs and from the Wisconsin Historical Society through the ARC network. Visit the Society's online catalog. Should you find a collection that you are interested in viewing that is located at another WHS repository, tell us and we'll have the collection brought to Ashland for your use at no cost. Nominal charges apply for copying and or research that we conduct for patrons; contact us for fee information.

Genealogy Programming and Education
For information on genealogy programs sponsored by the Wisconsin State Historical Society, please call 715-685-2647; or use the contact form at right.
Library Catalog
Note: The Library and Archives materials have been combined into one catalog as of May 20, 2015. The Society's library and archival holdings are cataloged in the University of Wisconsin-Madison's library catalog.

Research Your Family History
Using leading ancestry collections supporting Wisconsin, the United States and Canada. Or learn more about the Division of Library-Archives.
Contact the History Center
"*" indicates required fields